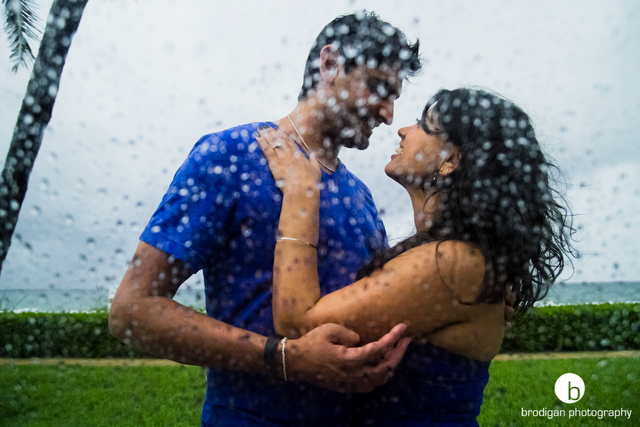 Soon-to-be-married couple Kap and Hetal still had one detail to take care of before their engagement dinner in Dallas — THE RING!! So during his last visit to see his sweety (a pharmacist here in West Palm Beach), Kap FINALLY gave the ring to Hetal. But he wanted to do it in style. So we armed him with beautiful yellow lillies from
Extra Touch Flowers on Clematis Street
and he donned his sharpest biz-cashz duds and got busy! Fortuately, the weather cooperated enough to do the deed; bride-to-be Hetal was VERY happy (see above), and we were off to the beach.
Being a summer's day in South Florida, the rain had to make a show of it, but our couple-to-be was undaunted in their love. We shot through the raindrops and even under a few.
Finally warming up with a celebratory libation at Bradley's, our couple truly looked like two kids in love, ready to tie the knot. Next stop — Dallas and from there, a full traditional wedding in India. Good things can happen when you're in love — even in the rain. Congratulations to a great couple!